Electro permanent Circular Chuck – EPERCN Description
The ERC-N Electro permanent Radial pole Circular chuck is used for hard turning applications.
Features:
High holding power * Heavy duty construction
. Electropermanent radial pole circular chuck with reinforced high holding force
. Space between the poles filled with  brass
. For ring-shaped workpieces
. Corresponding Control Unit and the Remote Control to be ordered separately.
Sizes: 200mm dia to 1000mm dia
Nominal force :140 N/cm²
Admissible wear of top plate :8 mm
Voltage : 340 VDC
Sizes available from 150mm dia to 1000mm dia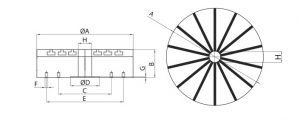 | | | | | | | | | |
| --- | --- | --- | --- | --- | --- | --- | --- | --- |
| A | B | C | D | E | F | G | H | I |
| 200 | 100 | – | – | – | 4 x M10 | 4 | 45 | 8 |
| 250 | 100 | – | – | – | 4 x M12 | 4 | 65 | 8 |
| 300 | 100 | – | – | – | 4 x M12 | 4 | 85 | 12 |
| 400 | 100 | – | – | – | 6 x M12 | 5 | 100 | 12 |
| 500 | 110 | – | – | – | 6 x M12 | 5 | 150 | 16 |
| 600 | 110 | – | – | – | 6 x M16 | 5 | 180 | 16 |
| 700 | 110 | – | – | – | 6 x M16 | 5 | 200 | 16 |
| 800 | 110 | – | – | – | 6 x M16 | 5 | 250 | 24 |